Subscribing to a Harley magazine or checking out some of the great books written ideal for finding information on improving your Harley's performance. Many biker and Harley magazines provide tips and how-to articles you can apply to your own bike, as well as new ideas and the latest products.

American Iron magazine and Street Chopper are some favorite Harley magazines of mine along with the other great magazines listed below. While there are many Harley Davidson performance books on the market, there are a few I have listed below that I find outstanding.

When it comes to the ABC's of Harley maintenance and repair both  Clymer and  Haynes, long known for their expert repair manuals are excellent choices. Finally, browsing through a  Harley parts catalog is another great source for picking up performance ideas for your ride. Best part is that many catalogs are free!
Harley Magazine Reviews
Harley Books and Manuals
Harley Magazines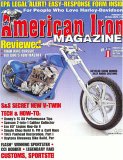 American Iron Magazine
Reviewer: Reader from San Fernando, CA While most Harley magazines concentrate on pictures of flashy motorcycles or the biker lifestyle. American Iron comes through with great tech articles, product reviews, and a good balance between custom and antique bikes and your everyday man's motorcycle. If you like your Harley magazine with more substance than hype this magazine is for you.

more…

American Rider Magazine From the Publisher You don't have to look hard to know there are a lot of Harley magazines out there. But American Rider is the one magazine that's delivered what readers want since 1993. From complete and usable machine and after-market buyers guides to real-world applications of performance parts. What works and what you don't need to waste your money on.

Related motorcycle magazines…

Street Chopper Magazine From the Publisher The original custom chopper magazine of the sixties, Street Chopper presents its readers with the latest styling trends and performance modifications. Update: sadly Street Chopper is temporarily being discontinued. Read more here…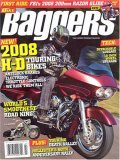 Hot Bike Baggers From the Publisher What happens when you cross a screaming V-twin bike, add the comforts of a luxury sedan for better touring, and toss it in a magazine? It's called – Hot Bike Baggers Magazine.Baggers was created for folks like you who enjoy not just the bike, but the journey too. Our editors promise to give you everything you need to get you going before your next road trip:
Editorial features for both American and Metric brands
Fantastic new products reviews that cater to comfort levels and bike performance
Tested road trip routes, including tips on where to stay and what to expect
Detailed monthly calendar of the best touring events across the nation
Expert bike care tech tips, including full spec sheets and step-by-step, do-it-yourself explanations
more…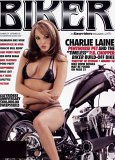 Biker Magazine Reviewer: Debbie L. McWhirter from Tampa, Florida I have been buying biker magazines for over 30 years. I have bought Easyriders, Biker Lifestyle, and Biker. I have even bought the regular Harley magazines such as American Motorcycle and Iron Horse but they don't measure up to Biker. I enjoy the articles and the pictures from the different events they go to. I use to go to any newsstand and be able to buy bike magazines but not anymore. It is getting harder and harder for me to find these type of magazines over the counter (with or without a plastic cover). I love reading the Biker magazine and will continue to do so until they stop publishing it. Keep up the good work, guys!!! Your friend, Deb M.

more…

Hot Bike From the Publisher Hot Bike is written for Harley-Davidson motorcycle owners and enthusiasts, and is a Harley magazine that fulfills a unique niche in a vast marketplace, emphasizing the owner/rider's pride in and loyalty to America's only surviving motorcycle. Features include technical information, how-to articles, political updates, new product introductions, and product evaluations.

more…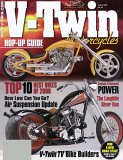 V-Twin From the Publisher The all new V-Twin magazine offers absolutely everything you need to feed your two-wheeled passion from riding wear to the latest accessories and goodies for your ride; the bikes you want, the finest american and metric custom cruisers; and true stories sent in by riders like you. It's all presented in our own original warped style of humor. There's no nudity, but plenty of sexy bikini-clad babes in every issue. Hey, we've got the best bikes and babes. What more do ya want.

more…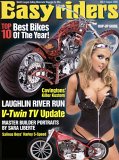 Easyriders Reviewer: Harley magazine reader from Eureka, CA I enjoy the cool bikes and hot women that Easyriders has to offer. Another good selection to put in granny's donut house (the bathroom) is the 1% favorite, "Outlaw Biker." Both these magazines are old school and way cool in my book. But do not just believe reviews, pick up a copy of either of these great magazines and decide for yourself.

more…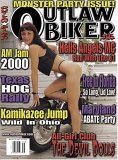 Outlaw Biker Magazine From the Publisher Outlaw Biker offers exclusive coverage of cycle rallies, meets, and parties; the best American iron on the road; news you can use; biker humor, cartoons, quizzes & games; and lots of wild, sexy scooter women.

more…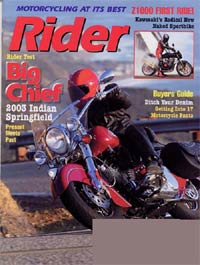 Rider Magazine From the Publisher Rider Magazine is edited for the motorcyclist who enjoys touring and general street riding. Rider includes great photos, articles on both modern and vintage iron, road tests, great rides, news and technical information.

Related motorcycle magazines…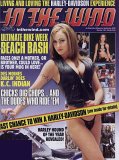 In The Wind Magazine From the Publisher In The Wind is just about the most fun you can have sitting still. You'll find pix, photos, mugs, black-and-whites, shots, prints and snaps of all the great biker bashes – annual events, bike shows, rodeo and racing action from coast to coast, border to border. Runs and buns, mugs and jugs, scooters and hooters, our motto is – if it's out there, it's in here. More than just another Harley magazine.

more…
Click Here
to save up to 80% on more motorcycle magazines!
More Harley and Biker Magazines
Harley Davidson Performance Books
American V-Twin Engine: Evo & Twin Cam Hop-up and Repair From the Publisher With the introduction of Harley-Davidson's Twin-Cam engine, enthusiasts need a hop-up and repair guide that addresses both the new powerplant and its predecessor, the Evolution engine. Divided into two sections, this new manual describes and illustrates options for improving the performance and reliability of both. Each section begins with a brief history of the engine followed by descriptions and instructions for the most popular aftermarket pistons, cylinders, camshafts, and drive chains, as well as advice for overcoming common obstacles. Specific topics addressed include aftermarket Evolution engines and installing a Twin-Cam in an Evo frame.

more…

101 Harley-Davidson Performance Projects Reviewer: Jerry Nemeth from USA This book is a must for all novice motorcycle repairman and is specific to Evo big twins and Sportsters. I teach harley-davidson repair for the U.A.W. and use this book. This book is not only good for harley's, it will work well for all motorcycles. The book is easy to understand for everyone. The tips on things like using a ball point pen to bleed brake lines is priceless. The only drawback to the book is, it's not longer! Love IT!

more…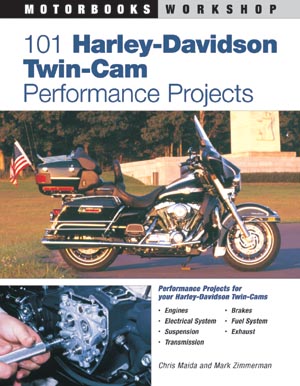 101 Harley-Davidson Twin-Cam Performance Projects From the Publisher This book consists of 101 projects to boost the performance of Harley-Davidson Twin-Cam engines. The book is broken out into projects that concentrate on specific aspects of the motorcycle, including engine, suspension, transmission, exhaust, brakes, and body.

more…

From Harley-Performance This is one of my favorite books, with simple to follow instructions and plenty of ideas to spark a few of your own.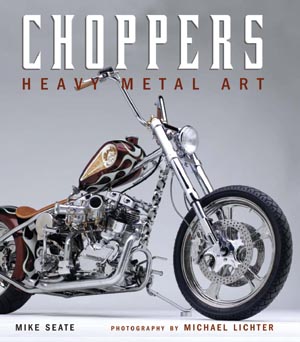 Choppers – Heavy Metal Art From the Publisher Choppers: Heavy Metal Art, author and biker Mike Seate explores the many styles of choppers and bobbers and the builders behind them. Features bikes from many of the great builders, including Jesse James, the late Indian Larry (cover bike), Arlen Ness and

more…
More Books on Harleys and Choppers
Services and Repair Manuals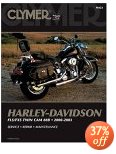 Harley-Davidson Repair Manuals by Clymer Clymer motorcycle repair manuals can save you money on maintenance and repair bills. Step-by-step procedures and detailed illustrations guide you through every job, from maintenance and troubleshooting, all the way to complete teardown and rebuild.

more…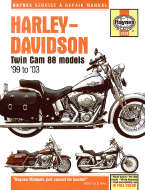 Harley-Davidson Repair Manuals by Haynes Haynes motorcycle repair manuals can save you money on maintenance and repair bills. Step-by-step procedures and illustrations guide you through every job, from maintenance and troubleshooting, to complete teardown and rebuild. more…
Harley Service Repair Manuals by Model
Additional Books on Harleys and Choppers
Search for New and Used Service Manuals