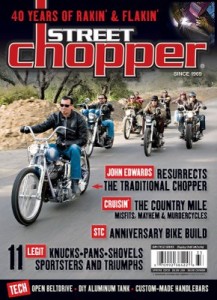 The publisher of 
Street Chopper Magazine
 has announced they will cease publication after the upcoming June/July issue. Probably the oldest remaining publication covering the chopper scene for 40+ years, Street Chopper along with the other motorcycle related magazine under Source Interlink were acquired late last month by Bonnier Motorcycle Group (Cycle World). They have decided not to continue publishing the 6 issues annually. While they are planning to convert this brand into both an online publication and produce what they are calling "special, high-art annual publications" the actual magazine as we know it is dead.
While time marches on, it is still sad to see this icon go. It will be interesting to see how Bonnier Corp deals with the other acquired titles including 
Motorcyclist, Sport Rider, Dirt Rider, Motorcycle Cruiser, Hot Bike,
and
Baggers.
 Two other titles
 Super Streetbike
and
ATV Rider
have been placed on hold while the publisher figures out their fate.
It was probably inevitable. Similar media such as newspapers have been struggling and waging a losing battle as the internet has become a far more accessible source of content. Magazines need to rethink their model if they expect to compete for advertising dollars but if done right there is probably room to keep classic publications alive side by side with their online counterparts.
We'll miss the old Street Chopper, but maybe it will find it's way back to our coffee tables one day.