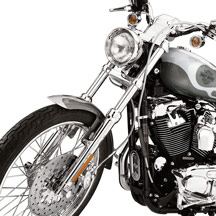 Changing your bike's fork oil is a simple task that many neglect. The oil in your forks are just as important as the other lubricants in your motorcycle, and must be changed on a regular basis to keep the seals from cracking and the fork's shock/dampening functioning properly.Early models require disassembly of the fork sliders and you should consult your shop manual for this. Most recent model Harley's have drain plugs and fill plugs to ease this operation. Unless you plan on rebuilding your forks and replacing seals, simply drain the fluid from the drain ports. Once completely drained, pump the forks to expel any remaining fluid. Replace the plugs and fill the forks through the top caps with an approved fork oil. The capacity varies by model but for most Softails and Dynas this amount is about 9 to 10 oz. If using Harley brand fork oil then type "B" or "E" is recommended depending on the model. The alternative product for those who require superior performance is 
Shock Therapy #10 
Fork Oil 
which can be used in place of either type oil. 
Avoid using ATF transmission fluid 
. This can be too light for most heavy big twins despite having similar chemical qualities. Fork lubricants, whether from the dealer or synthetic is not so expensive as to use ATF in it's place. Only use new fork lubricant from a sealed container. Unused portions should be kept air tight and stored in a cool dry place. I recommend discarding previously opened containers of shock lubricant not used within 6 months of opening.Slowly pump the forks to distribute the oil and dislodge any air bubbles after filling. Check for any leaks as this would indicate a rebuild is required. This of course will be a future article not only for rebuilding but for those installing new sliders. I highly recommend consulting a good repair manual specific to your bike before performing any maintenance work that you may be unfamiliar with. If you don't already have a good repair manual check out the ones 
listed here 
recommended by other readers.