Helmet Review – Cruiser Helmets
The following is a helmet review of open-face or half helmets, otherwise known as "shortie" or "beanie" helmets. Half helmets are extremely popular with those that ride Harley's and other cruisers. Helmet reviews are based on personal experience or testimonials from those that have used them.
---
The old saying "Less is more" applies to this helmet from TORC. A Harley helmet for the minimalist, this is about as light as you can get while still being DOT Approved. Whether you ride a ratted out bobber, a café racer, a British throw back, or an American V-twin, the T-50 has you covered. The T50 comes with an ultra suede liner that looks and feels like real leather, but wicks moisture and wears like the technical fabric it is.

See other TORC helmets at Johns Cycle Parts.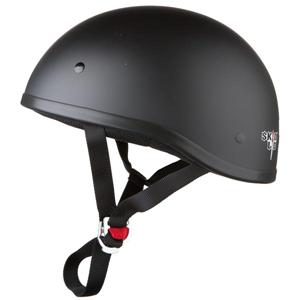 The old saying "Less is more" applies to this helmet review of the "Skid Lid" by Bikers Choice. A Harley helmet for the minimalist, this is about as light as you can get while still being DOT Approved. BC Helmets Feature: ABS Shell Shortly visor Quick release straps Leather lock, classic clean covering DOT Approved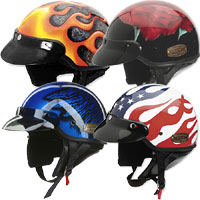 Italian workmanship in a truly American-styled helmet. Thunder Helmets by AGV are for those wanting their helmet to be as custom as their bike. A true half helmet with an assortment of air-brushed graphics to choose from. Thunder Helmets Feature: HIR-TH Resin shell Soft, anti-sweat interior Removable neck curtain and liner Removable 3-snap peak Chin strap secures with quick release buckle Available designs include a platinum eagle, flames, an eagle and canyon, or an eagle and the American flag. DOT Approved

A well known manufacturer of full-face helmets, HJC offers a 3/4 or open face helmet rather than a true half helmet. This is a great helmet for those wishing to have more coverage while still getting that open-air feeling of a half helmet. These helmets are all about comfort! Helmet Features: Lightweight injection-molded thermoplastic alloy shell. Two-piece channeled EPS liner for shock absorbsion. Plush, brushed Nylex interior for a comfortable fit. 3-snap black visor. Channeled forehead vents combine with venturi exhaust vents for adjustable flow through ventilation. Nylon strap-retention band neatly secures chin strap.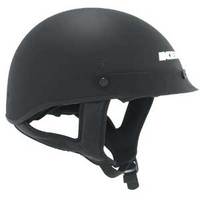 KBC offers several varieties of half helmets and also is one of the manufacturers supplying Harley branded helmets sold by Harley-Davidson dealerships. One of the best made half helmets on the market for the price. KBC Helmets Feature: Lightweight polycarbonate shell. 3 Snap visor. Removable neck curtain. Meets or exceeds DOT standards.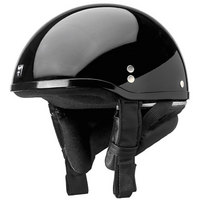 One of the best value Harley helmets around. Full featured and very comfortable, yet still affordable. Features: Thermoplastic shell. Bolt-on "shortly visor. Plush brushed nylon comfort interior. Adjustable scalp ventilation. D-ring retention system. High strength stainless steel rivets. High quality paint with clear coat finish. DOT approved.

Nolan also makes some great 3/4 and Full Face helmets.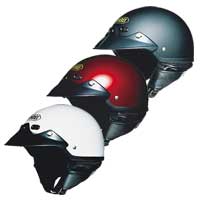 A very well known helmet manufacturer of full-face helmets for both street and off-road, Shoei also produces these high quality open-face helmets for cruisers. Shoei helmets come with a slightly higher price tag but are worth every penny considering how well they are constructed. Features: Lightweight "bag molded" fiberglass shell construction Adjustable forehead vents allow flow through ventilation Plush, brushed nylon interior Sewn in crown pad Exclusive Shoei "Open Road" visor Removable (zip off) neck curtain D-ring chin strap with nylon strap retention band DOT approved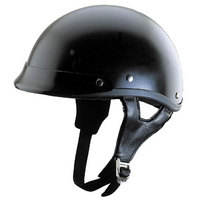 THH offers helmets in shortie, half and 3/4 styles. The popular "beanie" styled shortie helmets are DOT approved and have a new "shortly" bolt-on visor. Chin strap pads provide comfort and prevents strap from flapping in wind. A basic yet comfortable cruiser helmet. Also one of the least expensive helmets available on the market.
Other sources for open-face helmets
Helmet Sizing
Enjoy the Ride!