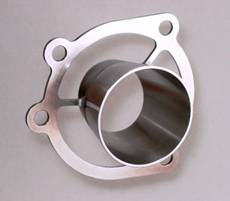 Patent Pending The velocity stack for inside your air cleaner. By funneling air through the unique venturi design, the V-Ductor reduces turbulence while increasing velocity for optimal performance.
Unlike vanes, grates, or screens that can encourage turbulence, the
V-Ductor
from CVP does not block or reduce flow. The V-Ductor increases intake velocity and air density to improve fuel atomization, without the need for rejetting or remapping.
Greater utilization of the fuel mixture provides:
+ Increased HP + Added Torque + Improved MPG
The only device of its kind, CNC milled from 6061 billet aluminum and designed to install inside your stock or high-flow air cleaner. Easily installs between your carb or throttle body and air cleaner backing. Fits all Big Twin and Sportster models using CV style carburetors, Delphi fuel injection, 08-present Touring (TBW models), and Mikuni HSR 42/45 carburetors.
Retails $79.95
Sale

$
52.95
FREE SHIPPING *
*US shipping only, not for export