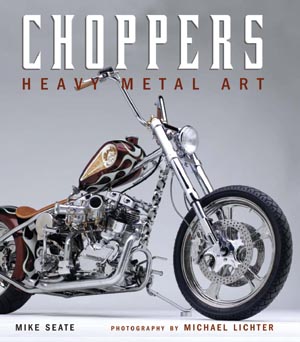 Choppers: Heavy Metal Art
Publisher Review
In Memoriam – We all were saddened to learn of the recent death of master chopper artist, Larry Desmedt, or 'Indian Larry' to all who knew him. As fate would have it, we at Motorbooks had decided months ago to feature one of his beautiful creations on the cover of this new book. We are honored to be publishing a book that celebrates his life and work, both so sadly cut short. Our condolences go to his family, friends, and to anyone in the chopper community lucky enough to have known and worked with Indian Larry. When a motorcycle has been built from the ground up, stripped of anything not needed for speed, power, and striking looks, and draped in rich colors and chrome, it has been transformed into a chopper.
What was once considered an outlaw ride has now become a luxury item and a mainstream obsession. In Choppers: Heavy Metal Art , author and biker Mike Seate explores the many styles of choppers and bobbers and the builders behind them. The book is divided into several sections based on style or type of chopper, with each section devoted to the builders who follow a similar style and philosophy. Some builders are established names in their field, while others are up-and-comers rocking the chopper world with their far-out ideas and new spins on a classic style.Photographer Michael Lichter, who has photographed choppers for Easyriders and several other magazines for nearly three decades, provides stunning studio images of the featured machines as well as portraits of their creators. Featured Builders Include:
| | |
| --- | --- |
| - Jesse James - Kendall Johnson - Kai- Brian Klock - Billy Lane - Indian Larry - Matt Burris - Larry Currick - Arlin Fatland - Al Gaither - Roger Goldammer - Don Hotop | - Donny Loos - Rick Sairless - Russell Marloe - Pat Matter - Arlen Ness - Corey Ness - Mike Pugliese - Kim Suter - Mark Warrick - Paul Yaffe - Hank Young |
Many of the above mentioned builders have been featured in the program the Great Biker build-Off . About the Author – Mike Seate is a journalist living in Pittsburgh, Pennsylvania. He began riding motorcycles at the age of 16, and 24 years later has still not bothered to learn how to drive a car. His columns on city living appear three times each week in the Pittsburgh Tribune-Review, and he has written hundreds of feature stories and opinion columns for various motorcycle enthusiast publications. Mike has written a number of books for MBI, including How to Build a West Coast Chopper, Outlaw Choppers, and Jesse James: The Man and His Machines. About the Photographer – Many factors make Michael Lichter's photography distinct, such as his technical mastery, his attention to detail, and his drive for perfection. Few other people see the world as Michael does, and no one else captures that vision on film the way he does. Michael began taking pictures and working in the darkroom at the age of 13. In 1978, Michael started doing commercial photography in Boulder, Colorado. By 1980, Michael had worked his passion for motorcycling into his photography career. His work began to appear in Easyriders magazine. Soon Michael found himself in the beds of pickup trucks during rainstorms, photographing packs of bikers on the roads around Sturgis, South Dakota. Michael is the author and photographer of the best-selling book Sturgis, and is the photographer of Billy Lane: Its Not a Motorcycle Baby, Its a Chopper!
---